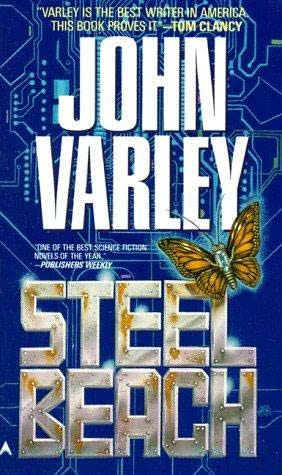 (
Continued from Part II
)
Sakai:
So what do you read these days in terms of SciFi?
Hagio:
"
Steel Beach
" was very interesting among things I've read recently. Now I'm looking forward to the final installment that I heard is coming soon—the "
Kirinyaga
" being serialized in "SF Magazine."
Mizutama:
Ooooh.
Sakai:
Ooooh. I'd better call
Hayakawa Shobo
and tell them they should write "Acclaimed by Moto Hagio!" on the obi [Note 1] when it gets republished as a book.
[Note 1] Obi is a strip of paper dressed on books in Japan like a belt or obi (the word traditionally refers to a sash for kimono) to cover the lower part of the book's cover where promotional copies are placed. These days almost all books published in Japan come with obi, and your book's resale value will go down without it, so my husband tells you not to throw it away. I find them irritating, since they come loose (you have to keep re-wrapping it around the cover) and don't really have any function other than for PR.
Hagio:
You see, the pacing of the writing is very relaxed, so I cannot help but use the 3% of my brain to think about how it ends. Then at the end, it reaches an [unexpected] conclusion after overturning all the possible variations I could come up with myself—that gives me such pleasure: "Ah, you could make
that
move!" So for the final installment I have been enjoying thinking about the possible variations.
Sakai:
John Varley
often depicts worlds in which sex gets interchanged. [Note 2]
[Note 2] Sexual ambiguity and androgyny are common themes throughout Hagio's works as well.
Hagio:
Yes, "
The Ophiuchi Hotline
" was also about a society where sex change occurs frequently, but I felt it was more of a fantasy if you depict it without involving personality. But in "
Steel Beach
" the changes are made at gene level. As the male protagonist transforms into a woman, the author describes how he becomes aware of his gradually feminized self during the process. That was interesting.
Mizutama:
Was it in "The Phantom of Kansas," included in the anthology "The Persistence of Vision," that a protagonist is about to be killed by his sex-changed clone—well, he gets killed in the end—but there is a clone and the one that didn't get a sex change is the original. The story was more focused on identity than the ethics of cloning.
Hagio:
Oh, that sounds interesting.
(
Continues
)